The following is a guest post with her 5 essential tips for an organized move from regular contributor, Morgan from Morganize with Me.
Over the past 20 plus years, we've moved a total of 12 times! We've lived in three different states, two different countries, and we've learned A LOT about how to move efficiently.
As a professional organizer, I just wrapped up two jobs where I helped my clients prepare their homes for sale and their lives for moving. One client is moving to another state and one client to another country!
If and when you find yourself needing to pack up, here are some of my tips for an organized move. These tips are a combination of what I've learned myself and also from what I see when helping others prepare to move.
5 Essential Tips for an Organized Move
Tip #1: Create a Plan
With moving, there is always a timeline of sorts. So it's important to start with a plan. Sit down and write down what needs to be done and when the task needs to be completed by. List all of the details. Consider everything from pets, to home projects, to scheduling things. There are many, many things to take care of when you move and in developing a plan, you'll better know what needs to be done, when.
Tip #2: Declutter, Declutter, Declutter
This is one of those things that while it is a smaller, more mundane task, it can make a world of difference! If you know six months out that you are going to move, it's not too early to start purging. Begin with things like foods, medicines, cleaning supplies, clothes you no longer wear, or furniture you want to sell or donate. Clean out closets that you don't use regularly or open up the cupboards in the garage, you might be surprised by what you find! The more you can get ahead of getting rid of things you don't need, the less you'll have to pack. Be ruthless. The worst thing to have happen is to open a box in your new home and wonder why you brought any of it, or in other words – packed and paid to have it moved!
Tip #3: Set Up Systems
This is also something you can do ahead of time. Think through what your systems are, for things like photos, paperwork, or memories. It's helpful to create a system for anything that needs one. This way you'll know where to find things and you'll also have a spot to put things as you come across them. This will help to keep things organized on both ends.
Tips #4: Pack in Sections
Depending on your timeline, start packing as soon as possible. It's helpful to give yourself plenty of time with this piece because it can be very time consuming. After you've decluttered a room or space, pack away what you won't need in the coming months. Also pack "like with like" and clearly label the boxes so that when you are placing boxes in your new home you'll know which rooms to put them in. When and where it's possible, try to completely clean and pack out one room or space at a time.
Tip #5: Simplify
When you get to the heart of the moving/packing phase take steps to simplify your life. Move to using paper plates or opt to pick up take-out for dinner. Try to minimize the number of rooms you "live" in and keep up with your daily routines so that your life feels manageable.
No matter the scale of your move, relocating is a big job. Break it down into smaller steps and follow my five tips to help keep things organized. Remember, less is more! The more you declutter and minimize what you bring to your next home, the more time, energy, and money you'll also save.
Happy Organizing & Moving!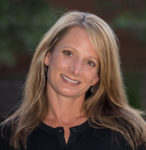 Morgan is a professional organizer (chaos calmer), writer (list lover), and exercise enthusiast (fitness fan), keep up with her on her site, Morganize with Me. Her mission is to share tried and true techniques that she hopes will encourage her readers and clients as they focus on their health and homes. Check out her upcoming Book, join one of her Challenges, listen to her Podcast, and be sure to check out her Shop full of fabulous organizing printables!
**********
Need more moving tips? No problem, check out all my moving tips.
You may also like:
Kristin's Top 10 Packing Tips for a Successful Move with Free Printable
**********
5 ways to keep a pretty and functional space, with kids, when selling your home