The following is a guest post with her three go-to tips for organizing outside toys in the garage from regular contributor, Morgan from Morganize with Me.
Summer…is it almost here? I'm not feeling it quite yet, mainly because we just had a snow day here last week in Colorado! Oh well, soon enough it will be here. I hope!
With the impending arrival of warmer weather, I want to address some simple ways to streamline all of the toys that may be parked (or cluttered) in your garage. I'm referring specifically to the storage of your kids' toys.
My children are older (my youngest turns 13 next month which means I will then officially have three teenagers in my house!) so I don't have the same types of "toys" that we once used to have, but we still have some outside toys that tend to pile up in our garage. I've found that by using some creativity and simplicity, I've been able to keep things a little bit tidier.
Here are my three go-to tips for organizing outside toys.
Number 1: Create Vertical Zones
In our garage we have a "zone" for the sports balls. A "zone" with containers that have sports things organized by category. And a "zone" for the scooters and the skateboards. So, if you are looking for swim stuff it can be found in the swim bin or if you are need to grab some tennis balls they are in the tennis bin. You get the idea.
I like containment because it helps to keep things contained. I also like using clear bins because you don't have to guess what is inside of what. These bins are Sterlite brand. They fit perfectly on the IKEA shelves that we no longer had a spot for in our house. (Reduce, reuse, recycle!) You can see more of my garage organization HERE.
Number 2: Declutter Regularly
As you are outside this summer and enjoying time with your kids, make it a point to declutter as you hang out. I'm not suggesting that you put on an apron and ignore your neighbors just so you can sort through boxes. Nope. But if you find that the chalk bucket is filled with broken pieces of chalk or that some of the sets of toys are missing parts – sort things before putting them away.
Or, if you get back from a sporting event or a camping trip, take the time to declutter anything that that no longer serves a purpose for you and/or your activities. Decluttering regularly helps to keep things more manageable.
Number 3: Delegate Clean Up
I've been guilty of jumping in and doing the clean up for my kids, because let's face it, it can often feel easier to do it yourself. However, it's better to encourage an all hands on deck approach. Create a habit of cleaning up one activity before moving on to the next. Teach your kids (and yes, even your teens) to clean up after themselves. This effort is ongoing but is so worth it. Organization takes maintenance and that is exactly what cleaning up is!
Please note, we didn't spend very much money to organize our garage and our kids' toys. We simply used things that we already had on hand. Then we added some more bins (over time), and most of all we work hard to keep it up. This is what's most important and what will make a garage (with all of its toys) stay streamlined.
Happy Organizing!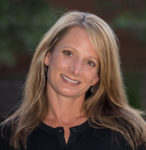 Morgan is a professional organizer (chaos calmer), writer (list lover), and exercise enthusiast (fitness fan), keep up with her on her site, Morganize with Me. Her mission is to share tried and true techniques that she hopes will encourage her readers and clients as they focus on their health and homes. Check out her upcoming Book, join one of her Challenges, listen to her Podcast, and be sure to check out her Shop full of fabulous organizing printables!