The following is a guest post about organizing a home office to work for you and your family from regular contributor, Morgan from Morganize with Me.
One of my goals is to make each of our rooms in our home serve at least one function and/or purpose. So, when we finished our basement last year, it meant that our main floor front room needed a new "room assignment." With the addition of our new basement, we transferred our TV room downstairs. In other words, we can now send the kids downstairs and they can take their energy and enthusiasm down there with them!
As we considered what to do with the front room, we knew we wanted it to be somewhat of an office. And per the builder's plans, the design and intent for this room is geared to be an office space. I do some of my work from home and my husband also works at home from time to time. We decided to turn it into what we call a "Flexi-Office." Flexible in the sense that we can do office work in there, yes, but it is also able to flex for other needs as well.
Instead of opting for a traditional desk and bookcase, we chose to buy a higher table with four chairs. (It's actually meant to be a dining table.) This set up provides us with plenty of space for work projects or it can also be used as an overflow table for game nights or a dinner table for four. We purchased the side console as well which gives us the perfect spot for storing all of our office things.
The center sliding doors open to reveal the printer (isn't that sneaky) and my notebooks and file trays. I use individual notebooks assigned for each of my work/home categories. This way when I'm working on something, rather at home or away, everything I need is in one spot!
Then on the left side I store some of my bulkier (not as often used) things, such as tech related equipment, my podcast mic, etc. Then on the right side there are six drawers to keep smaller things organized, like pens, sticky notes, thank you cards, etc. (Along with any of the current things I'm working with, writing about, or referencing.)
Then, in order to keep everything charged and ready to work, we also added a power strip with USB ports. On the desktop, the caddy holds things like pens, coasters, scissors, a stapler, and remote controls for the TV. (We use the TV to play music or have a movie on in the background.)
I also added some little touches of Rae Dunn (love her stuff!) and I'm slowing working to do some more decorating. The organizing is all in place and now it's time to add some pretty layers. On the list is adding curtains to help soften the two big windows and possibly adding shiplap to the clock wall. The room is a little bit on the bare side right now so the next step is to add more texture and depth to the room. One of the best things we did do though was add curtains to the French doors that lead into this room. This helps with providing privacy and also lessens the noise, especially when we need to do our focused work!
Happy Organizing!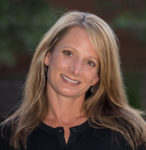 Morgan is a professional organizer (chaos calmer), writer (list lover), and exercise enthusiast (fitness fan), keep up with her on her site, Morganize with Me. Check out her upcoming Book, join her Organizing Challenges, listen to the Morganize with Me Podcast, and visit the MWM Shop full of fabulous organizing printables!