The following is a guest post about home organizing with turntables from regular contributor, Morgan from Morganize with Me.
IF I had to share my number one, my go-to, my favorite of all organizing tools, it would have to be the turntable.
Now, I'm not talking about the turntable that some of us may remember sitting in the middle of the dining table. The kind that helps to spin the salt and pepper around. Although, these are great too, I'm talking about the organizing turntables that have sides and dividers. They are designed to be used in pantries, bathrooms, offices, closets – you name it!
Containment is key and turntables are great at containing things. Without containment it is generally harder to maintain organization. By creating a "home" for things (or using a container) it's then easier to tidy up and know where things should go.
Containment is Key
Here are three examples of how I use turntables in my home to help with containing and controlling the chaos. Don't underestimate the power of containment!
First, I added one to my fridge. So, now there is only one spot available to put the big jars of stuff back. Jars like pickles, applesauce, salsa, and garlic. Having a turntable means you don't have to move things around. Yay!
You no longer have to shuffle things from the front to the back. Nope. You just have to give it a spin and in it goes. In our fridge, I opted to use a turntable without dividers so that more things could fit in the available space. (A divided turntable may be helpful in a fridge if you are sorting smaller things.)
Then, I placed one under my bathroom sink to help with organizing and containing all of my hair and beauty products. We have teeny tiny bathroom drawers so I have to capitalize on the available space under our sinks and using a turntable helps me to do just that!
The beauty once again is that I just need to give it a whirl and I can easily grab whatever I need. And the dividers make it simple to sort things by category. Additionally, the middle area is the ideal spot to hold my scissors and comb.
Lastly, as a self-proclaimed (and self-taught) stylist, and thanks to Sally Beauty Supply and YouTube, I do my own nails. (You can learn anything on YouTube, am I right?) Therefore, I needed a better system for all of my nail stuff. Well, once again a turntable saved the day!
Just like that, I can now have everything in one organized container. The prime example of "like with like." It's also easy for me to carry it all downstairs when I want to do my nails and watch a movie.
Consider where in your home organization that you might benefit by adding a turntable (or two). Asess what you need to store and then sort things into like categories. This way you'll know which size and style of turntable to use.
Trust me, once you add a turntable you'll never look back!
Click HERE and HERE to find my favorite ones on Amazon (affiliate links).
Happy Organizing!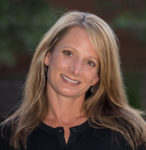 Morgan is a professional organizer (chaos calmer), writer (list lover), and exercise enthusiast (fitness fan), keep up with her on her site, Morganize with Me. Her mission is to share tried and true techniques that she hopes will encourage her readers and clients as they focus on their health and homes. Check out her upcoming Book, join one of her Challenges, listen to her Podcast, and be sure to check out her Shop full of fabulous organizing printables!
You may also like:
See how Laura uses turntables in her kitchen.
Please note that affiliate links are included in this post. This makes it easier for you to find what is being referenced.  A small commission, at no extra cost to you, is made should you purchase product using these links.  As always, any and all opinions are genuinely my own – or the author, in the case of posts by my guest contributors. Thank you!