The following is a guest post sharing two simple (yet smart!) tips for organizing a linen closet from regular contributor, Morgan from Morganize with Me.
You know what tends to be a magnet for clutter? Closets.
It doesn't matter the shape or size, any closet (especially if it has a door), is like a blinking "open" sign. A sign inviting you in, saying "We're open, come on in! Stay awhile…"
This is a good thing and it can also be a bad thing. Let me explain.
Closets, or storage spaces, allow you to keep things you want to use in the future and give you the option to tuck away items that you don't use every day. However, the benefits of having a storage space diminish quickly if you are not intentional with what you choose to keep, stash, and store.
In our hallway linen closet (pictured above), I've taken deliberate steps to minimize what we store. Recently, in only about 15 minutes, I did a quick overhaul as part of my Summer Organizing Challenge. Here are two simple tips you can use to help better capitalize on your linen closet and/or storage spaces.
Tip #1: Designate each shelf or section to a specific and clearly defined "zone."
In our linen closet, I assigned the bottom two shelves for my kids' memories. Their memory boxes (these are organizing life savers!) and their t-shirts they are saving for future memory quilts. I used Ziploc bags to contain each grouping of shirts. These bags are a great option for sorting and storing all kinds of things.
The middle shelves are for beach towels, extra bath towels, and blankets.
Notice that I don't have a lot of "extras." Each bathroom (or person) has only two-three bath towels each and a set of guest bath towels I keep downstairs in our guest bath.
Likewise, I only keep a few extra blankets. The rest of our blankets are in bedrooms or living areas – where we use them. And, now that my kids are older, I don't keep a lot of spare bedding or sheet sets. We have three sets for guests and those are considered our "extras."
The top shelf holds some of my kids' favorite toys and books from when they were little. I'm holding on to these for when we have little kids over to visit and for memory sake. 🙂
Tip #2: Don't use the full depth or length of the shelves/storage space.
In this closet, there is a lot of space that I could use but I have chosen instead to ignore it, because I don't need it. Remember, just because you have space doesn't mean that you have to use it!
There is a common misconception that having more closets or storage space is better and I don't agree with this idea. While storage is helpful, it can also become a hindrance and provide too many opportunities for you to hang on to things that you don't need to hold on to.
Instead of trying to add more storage options, try instead to store less! It really is the easier of the two options and will save you time and money too.
Happy Organizing!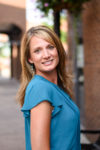 Morgan is the energetic and motivated, but also realistic girl, behind Morganize with Me. She is a chaos-calmer, list-lover, and exercise-enthusiast! Her mission is to share tried and true techniques that she hopes will encourage her readers and clients as they focus on their health and homes. Join one of her Challenges and be sure to check out her Shop full of fabulous organizing printables!
Related posts:
Inexpensive Linen Closet Organization
Another Organized Linen Closet