The following is a guest post sharing three tips for organizing a small broom closet from regular contributor, Morgan from Morganize with Me.
One of my favorite parts of organizing is being able to tackle a small space, specifically one that can be overhauled in a short amount of time. When you can transform a space in as little as under an hour, it feels great! A recent organizing project, that only took me around an hour to complete, was our broom closet.
This broom closet by our garage door leads to our "Pocket Office" and was a bit shall we say…under utilized? Therefore, I decided it was time to take it to the next level!
Three Tips for Organizing a Small Broom Closet
Tip #1: Define the space.
This closet is a standard builder grade closet with only a shelf and a rod. We didn't need to use this closet as a coat closet because we use our entry way hall closet for all of our coats. Instead, I wanted this closet to hold: mops and brooms, extra shoes, rolls of gift wrap, grocery sacks, and tools.
The key principle with organizing any space is to limit what you will store. Whether a closet, drawer, or cupboard, when you better define boundaries you will be able to keep your space more organized for the long-term.
Tip #2: Designate zones.
Like I mentioned, this closet needed to hold a variety of things. In fact, when I added up the different categories there were five specific "zones" to include.
When it comes to organizing, it is best is to set up specific places for each and every thing. I hear you saying, "…a place for everything and everything in its place!" Yep!
First, I hung up a hanging shoe system. My husband and I keep most of our shoes in the garage or in our closet but this area was tending to see piles of shoes. By adding this shoe system, it instantly helped minimize the shoe piles.
Secondly, I added these hooks from Home Depot for the mops and broom.
Thirdly, I put up a hook for extra grocery sacks and two tension bars to hold rolls of gift wrap.
This was a such a game changer for me. I keep all of our gift wrapping supplies in a cupboard in our kitchen but I had a few rolls of paper that were too long for any of my cupboards. Enter in this simple solution! (I also use Tidy Snap bands to hold rolls that are already opened.)
And finally, we keep the majority of our tools in the broom closet. One of the tool boxes is for all of my Professional Organizing supplies and the other two on the shelf are our house tools. These two tool boxes hold all of our main house tools and then we have a bin in the basement where we keep our less used tools.
Tip #3: Dedicate the time.
Once you have a decluttered and organized space, remember that it takes regular time and effort to keep it this way. Dedicate to keeping your space clutter free. Work to put things back where they belong, teach your children to do the same, and commit to maintaining your organized space.
That way when you shut the door you'll know that you are not afraid of seeing a mess when you open the door!
So, my challenge for you is this.
Choose one small area in your home and see if you can transform the space in under an hour. Use these three tips as a guide. And, if you want a little more inspiration and motivation be sure to check out my seasonal Organizing Challenges.
Happy Organizing!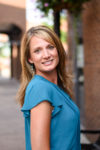 Morgan is the energetic and motivated, but also realistic girl, behind Morganize with Me. She is a chaos-calmer, list-lover, and exercise-enthusiast! Her mission is to share tried and true techniques that she hopes will encourage her readers and clients as they focus on their health and homes. Join one of her Challenges and be sure to check out her Shop full of fabulous organizing printables!
See also:
Small Organized Spaces: Tea Cabinet
Small Organized Spaces: Small Entryway