The following is a guest post about bathroom organization made simple from regular contributor, Morgan from Morganize with Me.
An area often prone to attracting extra and unwanted clutter, is our bathrooms. Whether you have adequate space or you are short on space, some simple bathroom organization steps can significantly help when it comes to keeping things in order.
I'll walk you though my tips by showing you a tour of our master bath. This bathroom has plenty of space, and it even boasts a large-sized linen closet, however the builder grade cabinets offer very little "functional organizational" space. To keep things in order, I use creative solutions and keep only the essentials.
5 Tips: Bathroom Organization (Made Simple)
Tip #1: Define the use of the storage areas in your bathroom(s).
Designate what goes where, like I did with our linen closet. Our linen closet is to the immediate left (in the picture below) and provides ample storage. (Which could become a clutter magnet if we choose to not be intentional with what we put in there!)
Tip #2: Install hooks to hold and store things. I placed these two hooks right next to our shower, as opposed to using the traditional towel bar on the wall.
Tip #3: Add a clock to help you stay on time!
Note from Laura: Yes! Adding a clock to my bathroom was a game changer for me!
Tip #4: Use containers to organize things, whether on counters or in drawers.
Due to the fact that our drawers are teeny tiny, I do put more items on our counters. Always think first about functionality and then about what looks pretty. When things are easier for you to maintain, you will naturally stay more organized!
Tip #5: Capitalize on the vertical space in your cabinets.
Our cabinets, like I mentioned, are builder grade and while they are spacious in size they are limited in functionality. (A perfect example of too deep and too wide.)
This amount of space could quickly become overstuffed and disorganized. To avoid this, I use stacking bins for the items I don't use as frequently and I added small hooks for my hair dryer and mirror. These two small and easy fixes, make a big difference!
Which bathroom organization tip do you think you can implement today? What is currently working in your bathroom or what is not working? Where and what do you need to declutter, in order to restore the order?
Happy Organizing!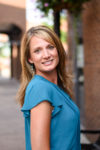 Morgan is the energetic and motivated, but also realistic girl, behind Morganize with Me. She is a chaos-calmer, list-lover, and exercise-enthusiast! Her mission is to share tried and true techniques that she hopes will encourage her readers and clients as they focus on their health and homes. Join one of her Challenges and be sure to check out her Shop full of fabulous organizing printables!