The following is a guest post about a foolproof formula for fridge organization from regular contributor, Morgan from Morganize with Me.
I have been wanting to take my fridge organization to the next level and guess what? I finally did! Our fridge was in need of more containment and more communication. So, after completing a little reboot, I'm excited to share my MORE organized fridge and foolproof formula with you.
Use containers to corral like items.
I finally broke down and bought some clear containers to help corral things and create better zones.
First, I added a clear turntable to the top shelf. (Why did I wait so long to buy one of these?) It's a large size which makes it great for holding bigger items, like pickle jars and applesauce containers. Now we can reach for something without having to move things around.
Secondly, I added two clear bins: one for eggs and one for bread. This way (in theory) all of the bread will go in one spot and the eggs can be taken out of their packaging. Whenever you can ditch packaging, do so. (These three containers were all purchased from Bed, Bath, and Beyond, don't forget your coupons!)
Use communication to signal where things go.
Next, I labeled things. I am hoping this will help my entire team do a better job of putting things back where they belong. (A girl can dream.)
The two large drawers are now labeled: "veggies" and "lunches." In the lunches drawer are prepackaged bags of veggies. This is a huge time saver and also helps my kids eat more vegetables.
I purchased oil based Sharpie pens (affiliate link) and they worked really well. My cursive could use a little practice but all in all, I love this simple addition.
Use coordinating storage containers.
Lastly, I use matching storage containers and this helps to keep things more streamlined and sorted. If you use storage containers that stack well, it will make it easier for you to fit everything in your fridge and it also looks coordinated!
I personally have been using the "take along" Rubbermaid style containers (affiliate link) for years. I haven't transitioned to using glass containers because we use them for packing lunches and this way there is no concern over breakage, but Rubbermaid does also make glass containers.
Also, I suggest doing a quick clean up of your fridge on a weekly basis. I usually do this when I bring home groceries on Fridays. A weekly refresh guarantees to keep things fresh!
Are you ready to work on implementing these three tips and taking your fridge organization to the next level? Share with me, what helps you to keep your fridge MORE organized?
Happy Organizing!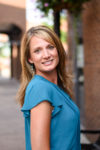 Morgan is the energetic and motivated, but also realistic girl, behind Morganize with Me. She is a chaos-calmer, list-lover, and exercise-enthusiast! Her mission is to share tried and true techniques that she hopes will encourage her readers and clients as they focus on their health and homes. Join one of her Challenges and be sure to check out her Shop full of fabulous organizing printables!
*Please note that affiliate links are included in this post to make it easier for you to find what is being referenced. A small commission is made should you purchase product using these links, but this is at no extra cost to you. As always, any and all opinions are genuinely my own – or the author, in the case of posts by my guest contributors. Thank you!*