The following is a guest post from regular contributor, Morgan from Morganize with Me. 
Whether your kids have been back to school for only a week or two, or if it's already been over a month, the reality is, that lunch-packing, backpack stuffing, homework signing, and outfit matching is here to stay!
In our home we're always trying to start new (simple) techniques, and this year we have implemented – "Supercharge your Sundays!" We now take our Sundays and we use them to focus on breakfast, lunch, dinner, outfit, and schedule prep. By focusing on these five areas every Sunday afternoon/evening, we're all better prepared for the week. It has been a real game changer in the Tyree house!
No. 1 – Plan your Breakfast Menu
Try to have a plan for your breakfast and lunch menu, that way you can shop according to the plan and your kids will know what they can choose from during the week. I try to create my systems to be as self-serve as possible!
Also on Sundays, when time permits, I'll make some breakfast options up ahead of time. Things like breakfast burritos or these super yummy breakfast cookies.
No. 2 – Plan your Lunch Menu
My kids all pack their own lunches each evening. However we've taken it upon ourselves, as part of "Supercharge Sundays," to assist them. We use a daily schedule (shown above) and our focus on Sundays is to prep veggies, stock the lunch and snack drawers, and prepare any of the main dishes ahead of time that we can. (Things like pastas and/or soups.)
Every afternoon my kids come home and put together their snack. When we have pre-stocked the snack/lunch drawers it makes lunch-making and snack-making so much easier!
No. 3 – Plan your Dinner Menu
As part of getting ready for our week, I also start our dinner menu planning. The more organized I start out the week, the more organized our week goes. Every.single.time.
I keep adding to my Recipes page if you're stumped on what to make next week! And I encourage you to use the same system each week. I like to use my menu printables, but there are lots of great options out there. When it comes to organizing, what is important is that you find the right organizing tool for you. A tool that you will use week after week, to stay organized!
No. 4 – Plan your Outfits
For kids and adults alike, planning out your outfits ahead of time can be a time saver, especially on busy weekday mornings. Consider on Sunday evenings, mapping out your week of outfits. Coordinating ahead of time, trying the outfits on, and making sure that the ironing is done.
Remember less IS more when it comes to your closet – I promise! A couple of systems that I have used or currently use, are listing the outfits out on a piece of paper or making a note on my phone. Or for younger kids, a set of dividers like shown below, work perfectly. (Sugarbooger Children's Closet Dividers, Big Dots Bright Pink) (*affiliate link*)
No. 5 – Plan your Schedule
We have the "Daily 5" listed up for everyone in our house. These are the five things that need to be addressed each morning (or throughout the day). Having a quick checklist for busy mornings can help to ensure that the essentials are done before everyone heads out the door.
We also have a weekly schedule that I keep updated. This is our week at a glance. It covers the main events for the week for everyone in our family. It is a super simple way to keep everyone more organized. Which is always the idea, wink, wink. 🙂
Ok, can I get a high-five?
Let's take on this next week! Prior planning prevents problems, well most of the time.
Supercharge your Sundays and Supercharge your Weeks!
Your turn…How do plan for your week? What tips and tricks do you use in your home to help keep the harmony and organization?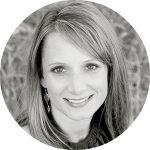 Morgan is the energetic and motivated, but also realistic girl, behind Morganize with Me. She is a list lover, fitness fan, and chaos controller! Her mission is to share tried and true techniques that she hopes will encourage her readers and clients as they focus on their health and homes. Join one of her Challenges and be sure to check out her Shop full of fabulous organizing printables!
*Please note that affiliate links are included in this post to make it easier for you to find what is being referenced. A small commission is made should you purchase product using these links, but this is at no extra cost to you. As always, any and all opinions are genuinely my own – or the author, in the case of posts by my guest contributors. Thank you!*