The following is a guest post from regular contributor, Sharon at Mom of 6.
Hello Org Junkie readers- and Happy New Year! Yes- I know that we are well into the month of September, but to me when the kids head back to school with their brand-new school clothes, their fresh school supplies, and their new backpacks- it just really feels more like the start of the New Year than it does on January 1st! In January, we have just come off of the long holiday season and most of us are worn out, and our good intentions for the New Year seem to be centered around losing a few pounds and exercising more. But in September after I have purchased all of those crisp clean notebooks and newly sharpened pencils- my good intentions are much more about creating a happy and organized home. Do you feel it too?
That's why throughout the month September over at Momof6 I am sharing with readers 10 Ways to Organize Your Life! So often when people think about living an "organized life", they imagine nice and neat stacks of clothing on a closet shelf, tidy sorted piles of paperwork on the kitchen counter, and things stored away in pretty little matching boxes. But I think that living an "organized life" is much bigger than that- it's having the peace of mind to know that you are on top of your schedule, that you know what you need to accomplish in any given day, that you know where to find the things you need to accomplish those tasks, and the calmness that comes with feeling in control. This is why I'm a huge fan of creating routines. Routines for yourself and routines for your family- that you follow at a particular time of day in order to get the things done that you want to accomplish. And a great time of day to establish a new routine is in the afternoon- right when the kids come home from school.
Get Unpacked and Make an Afternoon Game Plan
When the kids get home from school, I want them to show Mom a little love, unpack their backpacks and lunch bags, and review with me their homework assignments for the evening. We can then discuss who has an after-school activity and when each child will set aside time to work at the kitchen table on their homework. I will also read and sign any permission slips as well as review any other paperwork that the school has sent home. Now to help ensure that my kids follow our after-school routine, I've created this list, which hangs on our fridge:
I created my list in PicMonkey, and you can certainly create your own, but you are more than welcome to print a copy of my after-school routine chart here!
Have A Place to Store Their Gear
When you have six kids- lunch bags, snack bags, water bottles, backpacks, school supplies, and musical instruments take up a lot of space… and can threaten to eat up your entire kitchen counter if you let it. So I put this old baker's rack into use in our dining room (which is right next to our kitchen), to hold all of this stuff when not in use. I call this my "kids command center"…. and it keeps me sane.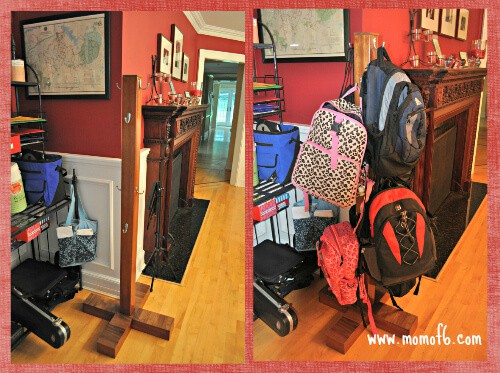 My husband created this backpack stand for us- so the kids have a place to store their backpacks when they are home. In the past we had stored them on hooks in the coat closet- but they were taking up so much room, and competing for space with the kids soccer backpacks. We found this to be a much better solution for us.
How About You?
Do you have a set after-school routine in place in your home that your kids follow? Do you think that having one would help you to feel more organized? Please leave us a comment with your thoughts!
If you get a chance, I hope you'll stop by to see me at Momof6 – a place where I write about organizing your home, using a family calendar, creating household routines, hosting at-home birthday parties, and holding a DIY summer camp! You can also find me on Facebook, Twitter (@sharonmomof6), and Pinterest!
Linking up: