The following is a guest post from regular contributor, Sharon at Mom of 6.
Hi everyone! I'm so glad to be back today at Org Junkie talking to you about how to set up some summer fun stations in your garage! You and your kids are going to be spending a lot of time outside in your yard this summer, and it would be really great if your kids could access the toys and games that they want to play with without having to come and find you to help get something down from a high shelf, or help them dig out their bike from the depths of an overcrowded garage, or help them locate their favorite pink soccer ball. Which is why I think setting up several "fun stations" in your garage is a great thing to do before the official start of summer!
Before Setting Up "Fun Stations", Remove Dangerous Items!
The first thing you're going to want to do is remove anything dangerous that you might have been storing in the garage during the winter months when the kids weren't in there quite so often. Things like gas containers for lawnmowers, fertilizer for outdoor plants, and any other type of hazardous chemical should be relocated to a shed, basement, or somewhere else that is not accessible by the kids.
Fun Station #1: Bikes!
My kids love riding their bikes so it's important that they can each find their own bike and helmet without having to move 100 things to get to them. And before we had "designated parking spaces" for each bike- that's what used to happen. A child would find his/her bike, ride it, and then just park it in the closest spot they could find just inside of the garage door. And the next child would do the same, and before long we couldn't even walk into the garage because everything was piled up right at the front!
So we purchased these bike stands from Amazon and have them lined up on our garage floor. The kids each have their own parking space so they know right where they can store their bike, and they hang their helmets over the handlebars so they can find it each time they want to ride.
Fun Station #2: Balls!
We have two of these great wall organizers for hanging balls, and the cool thing is that the kids can toss their balls into the top of the bins to put them away, but they can also reach through the vent in the mesh side panel to easily access the ball that they want- no help needed from Mom! We hung these bins at kid-height so they can access them on their own.
Fun Station #3: Scooters and More!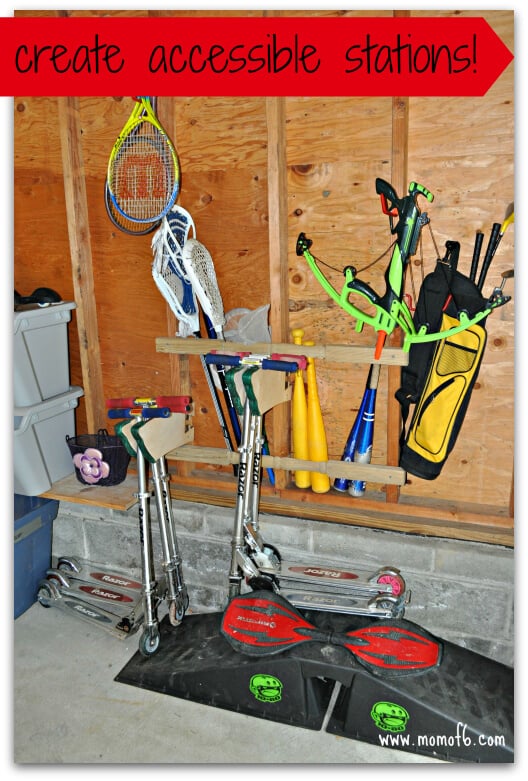 My husband created "scooter parking" by installing a few pieces of wood (leftover from another project) into wall studs, so the kids can just hook their handlebars over the wood "arms" and the scooters stay put. He also used a couple of narrow pieces of wood nailed across garage studs to create containers that hold baseball bats, lacrosse sticks, golf clubs, and any other tall unwieldy pieces of sports equipment. The kids can easily get to them and return them when they're finished.
Fun Station #4: Activities and Toys
I love using bins in the garage to store all of the kids different equipment for activities and toys such as rockets, baseball mitts, jump ropes, rock and bug collecting supplies, etc.- everything that they would want to play with is in a bin and the bin is labeled so the kids know exactly where they need to go to find what they're looking for, and exactly where to put it when they're finished.
Fun Stations #5: Sidewalk Chalk
My kids love to play with sidewalk chalk and they can spend hours creating elaborate murals all over our driveway. So at the beginning of each summer I like to make sure that our sidewalk chalk bin is full of new chalk that the kids can use to create their masterpieces.
Fun Station #6: Bubbles!
And it wouldn't be summer without blowing bubbles, right?! But the problem with bubbles is that they can be so messy, and kids who are excited to refill their own bubble containers can end up spilling out an entire gallon of bubble solution all down the driveway, as you watch your money going down the drain, literally! So I wanted to create a bubble refill station for my kids that would be spill proof and fun for them to use, and save a little money over store-bought bubbles. Here's how I did it:
I took a use an empty container of liquid laundry detergent, the kind that has the spout on the bottom and a twist cap on top, and I thoroughly cleaned out the inside. I then created my own bubble mixture based on this recipe from my favorite science guy, Steve Spangler– which makes enough to fill this 1.7 gallon container.
Homemade Bubbles Recipe
16 cups of water
1 cup of Dawn dishwashing detergent (Steve says that Dawn works best!)
1/2 cup of vegetable glycerin
Pour each of your 3 ingredients into your laundry detergent container, and gently swish it around to mix it. Allow your bubble solution to sit overnight which allows the products to bond together which produces even stronger (and bigger!) bubbles.
Make bubble wands out of chenille stems (pipe cleaners). You can shape them into circles, figure eights, diamonds, butterflies, hearts, etc. I like to have my kids dispense a very small amount of bubble mixture into large flat plastic containers, just enough so that the bubble wand is fully immersed in the liquid. The kids can easily refill their plastic container as needed- and the cool thing about using a liquid laundry detergent dispenser is that they have to actually push the button on the dispenser to allow the bubble solution to come out! If they tip over the bubble solution- it won't spill out, and there is no way to accidentally leave the nozzle open the way that you can on beverage dispenser- so it's pretty "kid-proof"! If you'd like a copy of the bubble station label, you can download it and print it in a 5×7 size. I ran mine through my Xyon laminator/adhesive machine to make it waterproof before adhering it to the clean detergent bottle.
Have fun!
If you get a chance, I hope you'll stop by to see me at Momof6 – a place where I write about organizing your home, using a family calendar, creating household routines, hosting at-home birthday parties, and holding a DIY summer camp! You can also find me on Facebook, Twitter (@sharonmomof6), and Pinterest!
Linking up at Six Sisters' Stuff and Your Homebased Mom and Home Stories A to Z