The following is a guest post with 3 practical tips for organizing spices beautifully from regular contributor, Morgan from Morganize with Me.
Whether you are a fan of spending time in your kitchen or not, my guess is that you have a some spices that are ready and waiting. Spices tend to populate our kitchens. In fact, they also have a tendency to duplicate and triplicate!
Well, because I'm a fan of less is more, I want to walk you through how to streamline and systemize your spices – once and for all! Yes, it can be done.
Organizing Spices
Affiliate links are included in this post which means a small commission is made should you purchase product using these links. This is at no extra cost to you.
Streamline – only purchase what you need.
This is a critical first step. Don't buy four new bottles of spices for a new recipe, a recipe that you may end up only making once. Instead, search via the helpful internet and find ways to substitute. Or create a combination of spices (spices you already have on hand) to adapt to the recipe.
However, if you need to invest in spices, spices you know you will use in the future, then do so. But otherwise be an intentional spice shopper. I have a handy dandy list of the most common spices in my shop (for free). Head over and download it and see which spices you have and/or don't have. This is a great starting point.
Systemize – design a coordinating set up.
While not necessary, this does look really nice and also makes it easier to keep things maintained.
My favorite methods for displaying spices are turntables or drawer inserts. Both allow you to see and access all of your spices quickly. These can be found at stores like Bed, Bath, and Beyond or on Amazon (affiliate link).
Then for the matching jars and labels, I recommend the jars and labels by Talented Kitchen, on Amazon (affiliate link). They have a great selection and wonderful products.
The labels I used (pictured below) are from Talented Kitchen. Doesn't it look so nice to have them all coordinate?
Seasonal Spot Check – reset and replenish quarterly.
Once you have streamlined and set up a system, it's then helpful to have a plan for maintaining and restocking. About once a quarter, I make a list of what needs to be replenished and then I shop from the list. (You can purchase from a store that sells spices in bulk or purchase individual spice jars.)
Then I refill everything that needs more and store the leftovers in a basket (on the top shelf in my picture above). This seasonal spot check keeps our spices ready to go and in tip top shape.
If you like to keep track of expiration dates, a small sticker on the bottom of the spice jar will work. I find that we go through our spices pretty quickly. With my quarterly clean up I'm able to keep an eye on the quality of our spices without needing to use stickers. But you'll want to do what works best for how you cook, bake, and use your spices.
Spices generally don't take up a lot of space but they can quickly overrun a space if you don't have a plan.
If you streamline (only keep on hand what you really need and use) and systemize (coordinate and categorize), then you'll have a set up you can easily maintain on a seasonal basis. And most of all, you will help to speed up your cooking and/or baking time!
Don't forget to access my free printable in my shop. And tell me, what's your favorite spice?
Happy Organizing!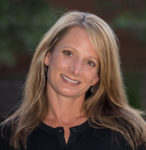 Morgan is a professional organizer (chaos calmer), writer (list lover), and exercise enthusiast (fitness fan), keep up with her on her site, Morganize with Me. Her mission is to share tried and true techniques that she hopes will encourage her readers and clients as they focus on their health and homes. Check out her new Book, join one of her Challenges, listen to her Podcast, and be sure to check out her Shop full of fabulous organizing printables!
You may also like:
7 Kitchen Organization Products You Need to Maximize Space & Function