The following is a guest post about organizing kids' arts and crafts from regular contributor, Morgan from Morganize with Me.
Now that my kids are older, they are not spending as much time coloring, painting, or sculpting things out of clay. However, there are still times when they want to create something with their hands or they have a project to work on for school. This is why I still keep an organized stash of art and craft supplies available.
No matter the ages of your children, it is a good idea to have some basic art and craft tools on hand. This may also very well prevent you from needing to run out to the store for some last-minute supplies needed for a homework assignment. Something I like to avoid like the flu! Here are three things to consider when you take on the task of organizing kids' arts and crafts.
Organizing Kids' Arts and Crafts
1) Use a single

spot

to store all of the supplies.
When we moved into our new home, I found the perfect spot to organize and store our art and craft items. This tall cupboard in our kitchen was ideal. I already had things organized in bins so I just had to arrange everything on the shelves.
I personally like having things available in the kitchen because my kids usually do their creative work around our kitchen table so this makes things convenient and I can also help remind them to clean up when they are done playing Picasso.
2) Use matching containers to create

separation.
These Sterilite bins have been with me forever! We just can't quit each other. This size of this bin works great to keep things organized and separated. They stack nicely too.
*Affiliate Link – Sterilite Bins*
My containers are an older model but I have had these for 15 years and they are still going strong. They are worth the investment because they can easily work in many different spaces for a variety of purposes. By having things divided, it means you only have to reach for one container at a time. (I also want to note that the very top shelf includes house related items such as light bulbs and shoe care stuff, the bottom three shelves are all dedicated to arts, crafts, birthdays, and even some office/school supply stuff.)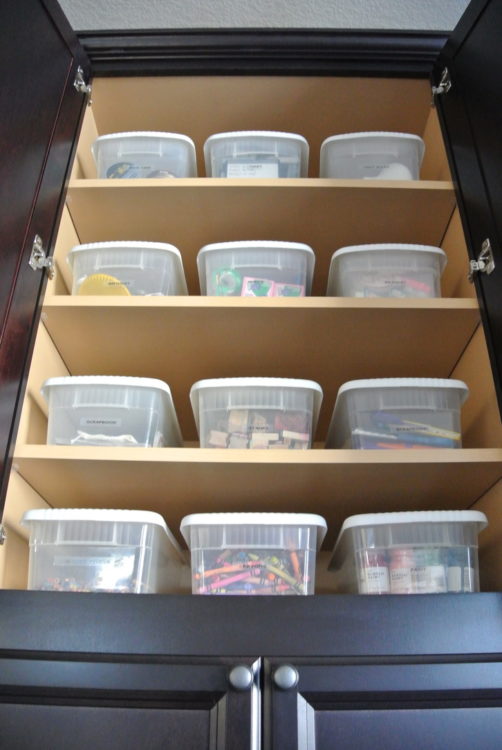 3) Use clear containers to help keep things

streamlined.
Using see-through containers makes it easier for you and your kids to see what is stored inside them. You can label them if you'd like, but you don't have to. I labeled mine with clear label tape and it works well for us. Only add labels if it makes things better for you and if you can easily update them when needed. Then last but certainly not least, only keep those supplies that are being used and appreciated. Less is more.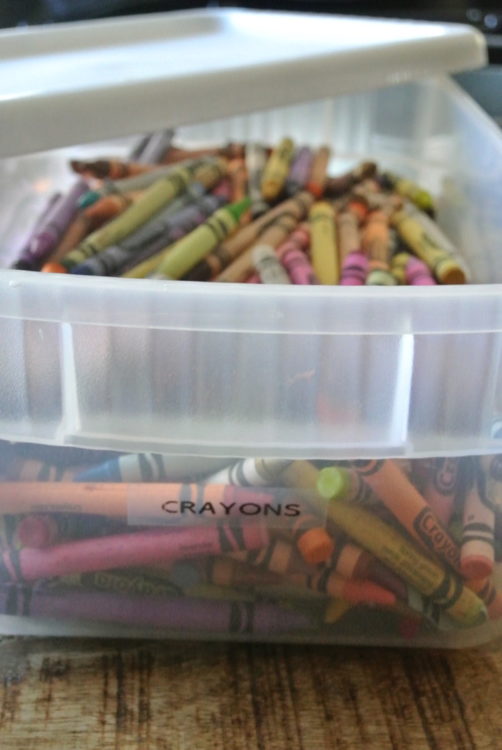 I'm all about fostering creativity and also keeping things organized. I hope these three simple steps for organizing kids' stuff can help you better contain all things art and craft related. Find a spot, separate, and streamline!
Happy Organizing!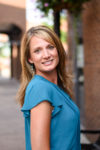 Morgan is the energetic and motivated, but also realistic girl, behind Morganize with Me. She is a list lover, fitness fan, and chaos controller! Her mission is to share tried and true techniques that she hopes will encourage her readers and clients as they focus on their health and homes. Join one of her Challenges and check out her Shop full of fabulous organizing printables!
*Please note that affiliate links are included in this post to make it easier for you to find what is being referenced.  A small commission is made should you purchase product using these links, but this is at no extra cost to you.  As always, any and all opinions are genuinely my own – or the author, in the case of posts by my guest contributors. Thank you!*