The following is a beautiful guest post about three steps to a simplified closet from regular contributor, Morgan from Morganize with Me.
As you look ahead to 2018 and start to think about your dreams and plans for the new year, I want to encourage you to consider the different areas in your home where you would like to be more organized.
When you make time to organize and simplify, you create more time for your essential priorities!
Not sure where to focus or what to tackle first?
I suggest starting with your closet.
As a Professional Organizer, I see how overwhelmed my clients feel because their closets are filled to the brim. A closet overly stuffed with clothes makes it more challenging to get dressed and takes up more of your time.
One approach to a simplified closet, is to create a Capsule Wardrobe. You can read how I transformed my closet by designing two 6-month seasonal Capsule Wardrobes. Organizing two Capsule Wardrobes was a win for me! And the best part, after taking time to focus on decluttering my closet, I felt more motivated to organize other areas in my home.
When you can get dressed with ease, your morning rush will no longer feel so frantic. When you have outfits that coordinate and go together, it will mean you have one less decision to make. When you have less clothing to wash, dry, and fold, you will spend less of your time doing laundry.
If you want to dive deep into creating a Capsule Wardrobe for yourself, you can check out my new eBook titled, Creating a Capsule Wardrobe: Three Days to a Transformed Closet. If you are ready to do a complete overall with your wardrobe, this is a great resource!
Or, if you would rather take some smaller steps, here are the three steps I recommend you start with. These will help you to simplify your closet – in no time!
Three Steps to a Simplified Closet
Step 1: 15-Minute Declutter
Set a timer for 15 minutes and pull anything out that you do not like or wear. Donate these items immediately. Purging those things that are just taking up room in your closet will immediately create more space in your closet.
Step 2: "Holding Box"
Designate a box to hold clothing items that you are not sure whether or not you want to keep. Then set a reminder on your calendar and revisit the box on a quarterly basis. Time will tell if you should be keeping the items or not.
Step 3: Matching Hangers
No need to purchase fancy hangers, plastic hangers will work just fine. Just make sure to stick to one color and style. (No wire hangers allowed!) Also, turn your hangers backward and reevaluate in six months which hangers are still not turned forward. This will make it easy for you to know which items you are wearing and not wearing.
Let 2018 be the year that your take back your closet! This is your year for a simplified closet!
Organizing and simplifying will give you more time and help you feel less overwhelmed.
Happy Organizing!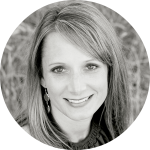 Morgan is the energetic and motivated, but also realistic girl, behind Morganize with Me. She is a list lover, fitness fan, and chaos controller! Her mission is to share tried and true techniques that she hopes will encourage her readers and clients as they focus on their health and homes. Join one of her Challenges and be sure to check out her Shop full of fabulous organizing printables!