The following is a beautiful guest post about organizing your hospitality for the holidays from regular contributor, Morgan from Morganize with Me.
The holiday season is here! Which means that last week I found myself having to explain to my 11-year-old daughter what Black Friday is. Then she told me that wants to get up early on Black Friday morning and go shopping! I'm not sure if I can handle that kind of craziness, not to mention the crowds.
To celebrate Thanksgiving, we're heading out-of-town (along with everyone else) and celebrating with my parents in California. Then, for Christmas we're planning to stay home. When we're home for the holidays, we like to open up our home and celebrate with others. As I've entertained over the years, I've picked up some valuable tips when it comes to hospitality.
Organizing your Hospitality
Hospitality – the friendly reception and treatment of guests or strangers
I've learned that when you focus on having a servant's heart, maintaining healthy expectations, and organizing your home, you can make your celebrations more meaningful and less stressful.
Heart of a Servant
When preparing to host an event make sure to have an attitude of gratitude. Welcoming people into your home is an opportunity to love and serve. Avoid feeling the pressure to entertain. Instead, light a candle and get comfortable. If you are comfortable in your own home, you'll make others feel comfortable too. Focus on demonstrating love, service, and the ultimate goal – sharing life.
Healthy Expectations
I've been guilty of running around frantically before guests arrive. I'm snapping at my kids and trying to clean up every nook and cranny. It's as if I feel the need to have our home perfectly neat and tidy before opening the door. My self-induced expectations end up creating more stress. When I remind myself that my family members are the first ones I should be serving, it helps me to maintain more realistic expectations. Determine to fiercely love your family first and lower your hosting expectations where necessary.
Home Organization
One of the best ways to enjoy your time with your guests, is to plan and organize things ahead of time. I usually do as much as a I can prior to our guests arriving, this way I can easily shift from preparing to socializing. When our guests arrive, I simply show them to the self-serve drink area, offer them an appetizer, and then I can sit and relax with them, knowing that dinner is baking in the oven and the dessert is chilling in the fridge. Plan ahead and you'll be able to enjoy more time with your guests.
Wishing you and your family many wonderful memories as you gather together this holiday season.
Happy Holidays & Happy Organizing!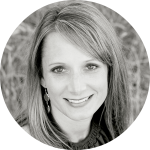 Morgan is the energetic and motivated, but also realistic girl, behind Morganize with Me. She is a list lover, fitness fan, and chaos controller! Her mission is to share tried and true techniques that she hopes will encourage her readers and clients as they focus on their health and homes. Join one of her Challenges and be sure to check out her Shop full of fabulous organizing printables!