The following is a guest post about creating an organized drawer from regular contributor, Morgan from Morganize with Me. 
Hello again! I'm thrilled to be back today sharing more organizing tips with you.
In our new home, I've been working hard to unpack, put things away, and ultimately organize each and every room. Then to really take things over the top, I also joined the One Room Challenge! Which means I have committed to designing, decorating, and of course, organizing my Pocket Office (the room I chose) in just a few weeks time.
Ready for the good news? I think I'm actually going to finish it! Here is a sneak peek of the "before."
In my beloved Pocket Office I thankfully have lots of storage. However, one of the areas that was a little more challenging to organize was the very shallow desk drawer. I knew I wanted to use the space, but I wasn't sure if I would be able to find the right "system."
Well….drum roll, I'm happy to report that I did!
I found these narrow trays at Target. Two of them easily fit into the drawer and created an simple to use system. (A similar tray may be found here on Amazon (affiliate link) – Whitmor Section Clear Drawer Organizer.)
I also lined the base of the drawer with contact paper, just to add a little punch! (The contact paper is from Amazon (affiliate link) – Self Adhesive Shelf Liner – 2 Pack – Rugby Chevron Graphite.)
The principles I followed in making this little drawer come to life, are the same principles you can use for any drawer in your home. Organizing a drawer is as easy as 1-2-3!
How to Have an Organized Drawer in Three Easy Steps
Analyze (and determine) the priority for your drawer. The drawer should have a purpose and generally not be a "catch-all."
Beautify the drawer by using an effective system. Find dividers or trays that will help to separate your items and don't forget to add a little punch too!
Commit to the maintenance of the drawer. You can do this by sticking to the priority of the drawer and ultimately by putting things back where they belong, every single time.
Alright, I've got one organized drawer in my Pocket Office and many more to go! Wish me luck.
Happy Organizing!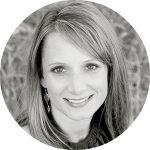 Morgan is the energetic and motivated, but also realistic girl, behind Morganize with Me. She is a list lover, fitness fan, and chaos controller! Her mission is to share tried and true techniques that she hopes will encourage her readers and clients as they focus on their health and homes. Join one of her Challenges and be sure to check out her Shop full of fabulous organizing printables!
*Please note that affiliate links are included in this post to make it easier for you to find what is being referenced.  A small commission is made should you purchase product using these links, but this is at no extra cost to you.  As always, any and all opinions are genuinely my own – or the author, in the case of posts by my guest contributors. Thank you!*
Save
Save
Save
Save