The following is a guest post about self-care from regular contributor, Morgan from Morganize with Me. 
I'm putting down my label maker today, and I'm going to talk with you all about self-care. In other words, yes you should get that massage.
Self-care is something I've been guilty of not doing nearly enough, even though I know it's incredibly important. I know that when I find time for it, I am more naturally able live my life intentionally, and dare I say, organized?
Often what keeps me from living intentionally, is the reality that I'm are trying to "do life" on an empty tank. I'm living with too little margin in my day-to-day and I don't have anything left to give. Can you relate?
Life for all of us, can tend to get chaotic. Which is exactly why carving out time for self-care is extremely important.
So, how do you find time for self-care?
# 1 – Plan
You have to be realistic and you need to look closely at your schedule. Where do you already have some margin in your days and weeks? Where do you need to allow for more margin? What blocks of time are being underutilized? You have to purposefully look for ways to fit in time for you.
# 2 – Prepare
Once you find time in your schedule, your next step is to prepare for your success. Do you need to make an appointment for a pedicure? Buy a journal? Or download more podcasts for your walks?
Self-care usually falls into two categories: physical and emotional. Within these two areas you get to decide what things fill you and what things drain you. When you look at self-care, you are focusing on choices and activities that will personally fill your cup. You will want to discover the ways for you, that help you to restore, recharge, and refresh.
#3 – Protect
If you don't protect your time for yourself, you'll easily find that your time will get away from you. Your self-care time should have a hedge of protection around it. You should unplug from all other roles within your designated time. Use healthy boundaries to help safeguard your time. And communicate well with the people in your life about your time designated for self-care.
The exact amount of time is going to be up to you. This will be based on what you need. Some weeks you may need more time for self-care than other weeks. You get to decide, but just make sure you are realistic with what your personal needs are.
Plan, prepare, and protect your need for self-care. When you do, you will set yourself up for self-care success. I'm off to dust off my label maker and get back to more organizing, after my self-care of course!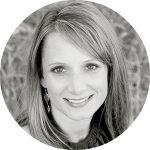 Morgan is the energetic and motivated, but also realistic girl, behind Morganize with Me. She is a list lover, fitness fan, and chaos controller! Her mission is to share tried and true techniques that she hopes will encourage her readers and clients as they focus on their health and homes. Join one of her Challenges and be sure to check out her Shop full of fabulous organizing printables!
Save