The following is a guest post from regular contributor, Morgan from Morganize with Me. 
Even though summer is still a few months away, now is a terrific time to work on organizing your kids' memory and school stuff. I'm talking about report cards, treasured art pieces, class pictures, awards, memory items, and the like. Because having kids equals having stuff! Are you ready? I've got 3 easy tricks to help you to control the chaos, I mean stuff.
Trick #1: Designate one memory box per child.
This is the perfect place to stash their favorite blankie, large piece(s) of artwork that you/they don't want to let go of, and anything in between. I consider this a "catch-all" spot. A place where my kids can toss items they want to keep which are not in the paper category (unless they are paper items that are too big for their "file box" – trick #2). My son's memory box is the second one down. #ispytrophies
I use a 32 quart sized bin for each of my kids and for my 15 year-old this size is still working.
It's a good idea to limit the memory box to one and/or keep the size limited. One only needs to keep so many memories. Please re-read that last sentence again. 🙂
Trick #2: Designate one file box per child.
These are the bomb! It's as easy has getting a file box, some files, and boom, you've got a wonderful system to tuck away all of those memory and school paper items that need a home. I love that it's so simple to set up and it's very organized so if and when you need to retrieve something, you can find it easily. I broke down
Note from Laura: I also use the file box method and I agree it's awesome!!

Trick #3: Designate a "school" book per child.
I have a sweet little system that has helped me to organize all of the fun school memories in a really simple way. Thanks to my mom, I too have one of these books from my own school years. I found these School Memory Books through a School Scholastic Book Order.
The books are an easy way to collect all of the pictures and report cards in one place. There is a spot for the current year picture and a page that your child can fill in on their own or with some help. It is a great way to have a snapshot of each school year. The book covers Preschool-Sixth Grade. I then tuck these in the front of their file boxes. (This third trick is not as essential as number one and two, but if you find something like this it can be a fun addition that will help you to keep things even more organized and documented.)
A few more tips and tricks for organizing school papers:
When you add to a box, file or book, make sure to do a little mini-purge. Often your (or your child's) desire to keep certain things will change over time, so as you add, also do a little subtracting.
Make a goal to really address these three areas once a year. They can all too easily become a chaos holder, versus an organized holder!
Model to your kids how to value memories without having to hold on to every single thing.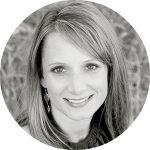 Morgan is the energetic and motivated, but also realistic girl, behind Morganize with Me. She is a list lover, fitness fan, and chaos controller! Her mission is to share tried and true techniques that she hopes will encourage her readers and clients as they focus on their health and homes. Join one of her Challenges and be sure to check out her Shop full of fabulous organizing printables!