The following is a guest post from regular contributor, Morgan from Morganize with Me. 
When I think about how many hours I've spent folding, sorting, hanging, and essentially organizing my kids' clothes it makes me very, very, very tired. The organizing struggle around managing kids' clothing is real!
I think it's because they grow at lightening speed and wear through their "favorites" faster than the fashion industry can announce new trends. It can make you feel like you are on a hamster wheel, a hamster wheel that keeps moving faster and faster.
But, guess what? I've got 5 simple tips for organizing kids' clothes. These are realistic tips that really work. And they will make the hamster wheel feel not soooo fast, you might even get to step off of the wheel altogether. Yay!
Tip #1: Determine to Buy Less
This is usually at the root of most organizing challenges. When there is too much to choose from or too much to take care of, more time and energy is always required. Work to buy less clothing for your kids and you'll have less to organize! Personally I recently went to a capsule wardrobe and have found so much freedom in having less.
Tip #2: Create a "Give Away" Station
Place a give away basket in your child's closet or perhaps one in your laundry room for all of your children. This basket, bin or sack should be used for all items that your child has outgrown and that you want to give away, either to a charity or to others as hand me downs.
Tip #3: Designate a "Family Hand Me Down" Station
Use another basket (or bin/sack), again either in your child's closet or in one place for all of your children. This will be the spot where you toss clothes that need to organized and stored as hand me downs for your family.
Tip #4: Organize a "When I Grow Up" System
If you are going to store clothes from an older child in your family for a younger child in your family, you'll want to organize a simple system. It will be so much easier if you have some clear bins organized to hold the items sized in categories, by gender, and even seasons. See my system below and here are similar bins like I use Sterilite 18888004 66-Quart See-Through Storage Box with Latching Lid and Blue Aquarium Handle, 4 Pack (affiliate link)
Word of caution – don't save too much! Styles change, kids are different shapes and sizes, and then there is personal taste too! Only keep the best of the best and make a point to pull out the clothes seasonally and to also go through them before shopping for new clothes, remember tip #1.
Tip #5: Practice Saying No
If well-meaning friends are giving you overstuffed bags of hand me downs and it's too much, learn to say no! Hand me downs can be a huge blessing, but they can quickly become a burden too. When you have too much to sort through, manage, and organize, you'll experience more of the burden. The bottom line is that your kids only need so many clothes. Feel free to say no to gifts/donations of clothes. And likewise if you give hand me downs to others, also give them the gift and freedom to simply donate the clothing if they don't need or want them.
Lastly, the holding spots for donations and family hand me downs can be added to on an ongoing basis, as you wash and fold, or when you realize that something is just too small. Then make a point to either seasonally or during school breaks, do a once over. It's important to have a schedule around when you organize and sort through all of the clothing, this will allow you to fix it and forget it. (Until the next season or shopping trip!)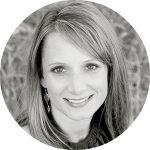 Morgan is the energetic and motivated, but also realistic girl, behind Morganize with Me. Her mission is to share simple organizing tips and tools with her readers and clients. Join one of her Challenges and be sure to check out her Shop full of fabulous organizing printables!
*Please note that affiliate links are included in this post to make it easier for you to find what is being referenced. A small commission is made should you purchase product using these links, but this is at no extra cost to you. As always, any and all opinions are genuinely my own – or the author, in the case of posts by my guest contributors. Thank you!*