The following is a guest post from regular contributor, Morgan from Morganize with Me. 
Hi there! I'm so happy to be back today because I'm talking about one of my favorite things – traveling! As an American who is currently living in Southern Europe (I know pinch me), I've learned how to pack for trips like a superstar. (Watch out Amazing Race – you might see me very soon, all packed, and ready to go!)
Throughout my recent adventures ranging from Morocco to Italy to France, I've learned how to pack like a BOSS, (or an Organizer) and today I'm sharing my top five tested and true packing tips to help you pack like an organizer. Keep in mind that these are all tips that you can use for any sort of travel, whether a day trip to the beach, a weekend getaway, or a two-week adventure.
1) Pack your Outfits
First things first. This is exactly how I pack for a trip. I lay out outfits from top to bottom. I include undies, socks, accessories, and shoes. This picture above shows what I laid out before packing for our fabulous trip to Amsterdam.
I like to take the "outfit thinking" out of my vacation time. With my outfits already sort of planned, along with a little flexibility, I don't have to spend as much time thinking about what I will wear. This really helps me to not over pack and to get dressed easier each day.
2) Pack your Essentials
Your essentials used to mean your toiletries, and while these are still essential, now so are your "device" accessories! When you travel you need to bring along cords, chargers, and headphones. All things that you want to keep track of.
My simple tip to keep them all corralled, is to use a cute bag. I mean a cute bag just makes organizing easy. (Notice I carry a universal charger, something you must have when traveling internationally.) A cute bag will also help you to remember to grab your cords and such when checking out of your hotel room. It's a real pain to forget and leave your charger behind. #cutebagwillsavetheday
3) Pack your Medicine
Nothing is worse than traveling and being sick. To avoid having to pack along bottles of pills and/or boxes of medicine, that you might need, opt instead for a smaller case. I keep this container in my purse at all times, then for trips I make sure to re-stock. Having what you need, when you need it, can make a world of difference. No matter where you are in the world, ha!
4) Pack your Liquids
Now we'll touch on your toiletries. It's a good idea to know ahead of time what your airline requirements are for all things, including liquids! In an attempt to streamline the security measures I have learned to plan ahead. I store face lotion, hair cream, and sunscreen in small containers. Then I opt to buy the mini sized hair spray bottle and toothpaste. (I just keep refilling the hairspray.) Then this handy bag that I received from a charity event, works perfectly to whip out all of my liquids when I have to go through security.
Plan ahead, it's worth it. Even if you are not flying, try to downsize your toiletries for simpler packing. It saves you space and time.
Letter Size Poly String Envelope with Expandable Gusset, 6pc Mix Colors Set(1green,1blue,2clear,1purple,1red), Water/tear Resistant-translucent
5) Pack your Paperwork
Even though I do as much as I can digitally, I still seem to need to carry along some paper with me. This can range from passports to tickets to itineraries. My organizing solution is to use a simple durable envelope like the one above. An envelope like this helps to keep everything organized and protected.
That's it travelers, now you've got five simple tips to help you to better pack. Sounds like you need to start planning your next trip!
Your turn…where are you planning to travel this summer? Do you dread packing or love packing? I'd love to hear.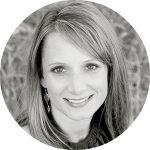 Morgan is the energetic and motivated, but also realistic girl, behind Morganize with Me. She is a list lover, fitness fan and chaos controller! Her mission is to share tried and true techniques that she hopes will encourage her readers and clients as they focus on their health and homes.
Related Posts: