The following is a guest post from regular contributor, Sharon at Mom of 6.
Laura shared an amazing post this week about how to slow down in a super-fast world, and it really resonated with me. Because I think that more than any other time of year, the holiday season causes people to run at full-speed in the fast lane. And it just doesn't have to be that way. Two years ago, I made the decision that I wanted to spend my holidays intentionally– doing only the things that are important to my family and eliminating the holidays "to-do's" that were not adding any personal joy. So watching those adorable clay-mation Christmas shows is a "yes", but making handmade Christmas cards is "out"!
But the key to being intentional about the holidays is to begin with a plan. Decide what is important to you, and make a plan to do those things- but only those things. Be specific about things you are just not going to do this year too. So if you're ready to sit down and consider your own holiday game plan, here are few things for you to think about:
1. Set intentional plans and put them on your calendar!
This is the first thing I ponder when thinking about Christmas… is to make a list of all of those things that I want to do to enjoy the season with my family. At our house that includes watching all of those old-time holiday specials (Heat-Miser is a fav), picking out and decorating the tree together, enjoying hot chocolate, driving around to look at holiday lights, seeing the Nutcracker with my girls, and baking our favorite types of Christmas cookies. But if I don't plan for it, it's not going to happen. So I literally enter these things into my calendar on specific dates, to make sure that I really make the time to do them.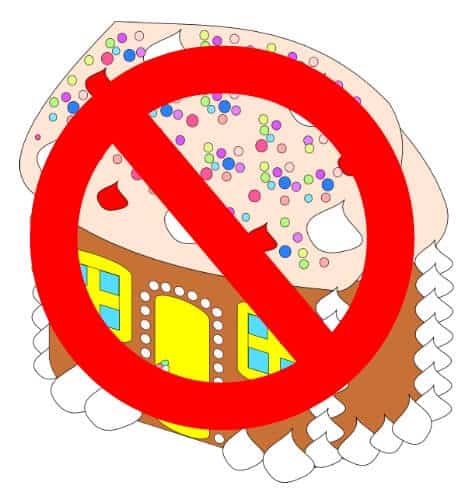 2. Decide up front what you are skipping this year!
This is where things get hard- deciding what to cut out. There are the things that you wish you had time to do- such as decorating gingerbread houses (even baking them from scratch!), handwriting personal notes on everyone's holiday card, and sending in plates of homemade cookies to all of the kids' teachers whom you value so very much.
Then there's the "obligations" that pop-up. Kids holiday parties at school, the food drive at church, the mitten tree at the library.
These are all lovely and worthwhile endeavors- but maybe this just isn't the right time of year to take all of that on. Think about decorating gingerbread houses in January, volunteering for the kids Valentine's Day party instead, dropping off items at the food bank in March when supplies are running low, and baking for the teachers in April to welcome in the spring. You can still do the things that are important to your heart- you just don't have to squish them all into the same 5-week time period!
3. Budget, budget, budget
Being intentional about the holiday means being intentional about what you spend too. Before you even start thinking about holiday gifts, you need to decide your top-line number… what is the amount that you can afford and want to spend? Set a budget for the holidays- gifts, decorations, meals, travel, and everything else- and then stick to it. It's no holiday if you spend the first half of 2014 in a panic because you know you over-spent on Christmas. Be intentional about everything- including the family finances.
4. Make your gift list, and check it twice!
Great sales days are ahead my friend… but you can only take advantage of them if you know whom you need to buy for, some ideas of what to purchase, and a budget for each item. Begin by looking over your gift list from last year, and start making some notes! (I do nearly all of my holiday shopping on the day after Thanksgiving, so having a list prepared is essential). If you have a plan, you can execute it early- avoid rushing around at the last minute, and definitely avoid over-spending.
5. Make some time for you!
It would be really nice if this was the year that you made it to Christmas morning feeling excited and re-charged instead of exhausted and frazzled, don't you think? The best way to realize that dream would be to schedule some time for yourself every single week for the 5 weeks that feeds your own soul. For some people that might include a few hours each week with a good book (with a glass of wine seated next to a roaring fire sounds ideal to me), and for others, it might be some time at the gym or a few hours volunteering for a worthy cause. Whatever will help re-fill your cup that runneth-over, make sure that you make time for it!
Are you ready to have an intentional holiday this year?
If you get a chance, I hope you'll stop by to see me at Momof6 – a place where I write about organizing your home, using a family calendar, creating household routines, hosting at-home birthday parties, and holding a DIY summer camp! You can also find me on Facebook, Twitter (@sharonmomof6), and Pinterest!
Linking up: