The following is a guest post from Morgan at Morganize with Me.
I love organizing closets so it goes without saying that this series has been such an inspiration for me! It got me thinking about the organization of the closets in my own casa. Especially the ones that need some serious TLC.
Let's just say, I quickly knew the one closet that needed my attention first and foremost. My hubby's closet (see Exhibit A). He has his own double wide closet which was in need of some serious re-organization!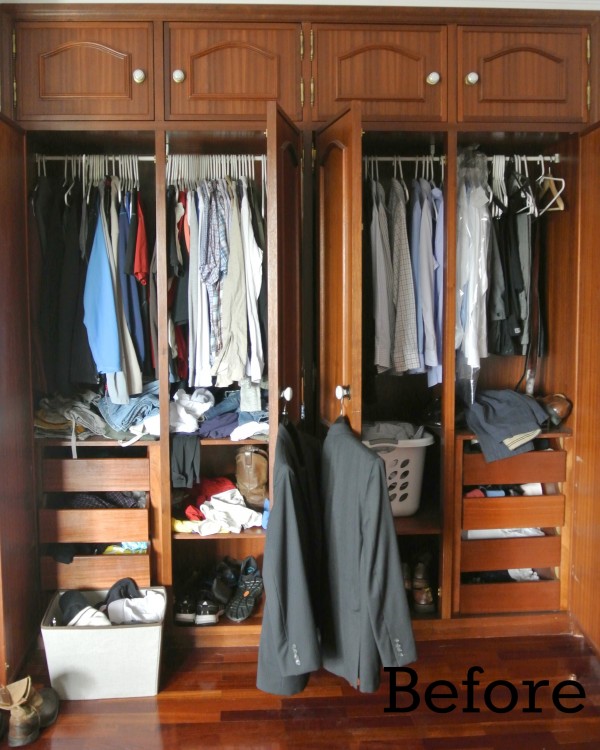 I took this photo exactly how it looked the day I decided to start this little big project.
When we moved into our new home this year, I worked really hard to set him up with systems for all of his clothes. Yes, you read that correctly, my sweet husband has lots of everything when it comes to clothing! The system we started out with was OK. But, it had become over time a terrible case of too many clothes and not enough organization!
Time for some "morganizing."
Organizing His Closet:
Step One: We purged, cleaned, and organized. We pulled everything out and went through ALL of his clothing and shoes. It is crazy that even after just moving in January, there were so many things he was ready to part with.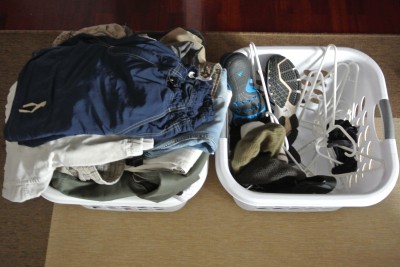 Whenever I start to organize I grab laundry baskets, they make a great system for sorting. One basket was for all the clothes that he wanted to donate. The other basket was for items that needed to go to a different location. In other words, his closet was not their proper home. 🙂
Step Two: I analyzed the function of the entire space. Asking, what's working, and what's not? I mentally made a list of things that would help to transform the space, with little, to no cost.
1-Shoe system for dress and casual shoes
2-Belt holder
3-Basket for tie clips and shirt stays
4-Smaller laundry basket for dress shirts
5-Designate only one style or type of clothing per drawer
Step Three: The new and improved closet.
Notice how the shoes have a nice home? I put all of his dress shoes in the shoe corral and then his casual shoes/boots are on the lower shelf. (The shoe corral was mine, but I really didn't need it, so over to his closet it went.) In addition, we moved all of his athletic shoes to our workout space downstairs.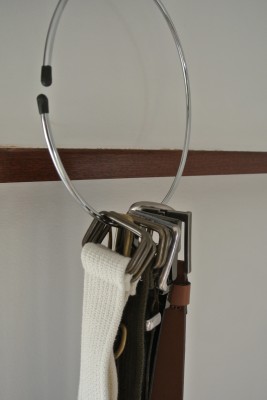 The belts were everywhere, until I hung them on this. A perfect example of a place for everything, and everything in its place! Again, this was in my closet. But guess how many belts I have? Three. And, how often do I wear them? NEVER. He needed this belt ring way more than I did!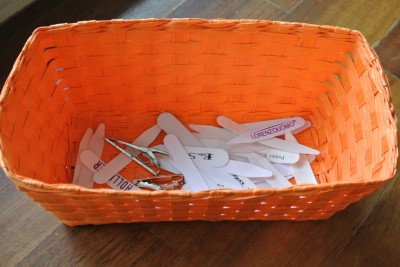 Next up a cute basket with a punch of color to store his shirt stays and tie clips.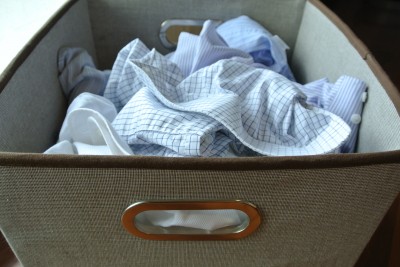 A smaller bin to catch his "wash separately" dress shirts. Also, recycled from my closet, I am sooo nice!
Lastly, I made sure that each drawer had its own identity and only held one particular type of clothing. For example, ties, dress socks, workout shorts, or pjs. By keeping like items together and separating the casual from the work it will make it easier to maintain, which is always my goal. I had already set up his tie system and shared more about that project over here.
I am so happy with the results that now I am off to the next closet that needs a little TLC from moi!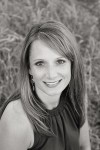 Morgan is a momma on a mission to share some tried and true techniques that she hopes will encourage you as you focus on your health and home. She wants to motivate you to be the very best you can be, by sharing about anything from workout ideas, to organizing closets, to squeezing in quiet times. Join her on her journey, at Morganize with Me, as she attempts to control the chaos!
All of the posts in this 31 day to organized closets series can be found by clicking on the graphic below.
Linking up: 36th Avenue