Welcome to another month of the Organize It! Linky Party hosted by the Top Organizing Bloggers!  If you have posted any organizing projects on your blog this past month, we'd love to see them added to the linky list below!  We provide multiple categories to link up to so it stays all nice and organized.   Plus if you are just looking this makes it super easy to quickly find what you need and get some major inspiration fast. I am loving this monthly link party because there is so much organizing eye candy to fuel my habit 🙂 I hope you are enjoying it too! Happy organizing y'all!

We can't wait to see what you've been up to! Our favorites throughout the month will be pinned to our Organize It! Pinterest board.  Also this linky list below will appear across all 8 of our organizing blogs giving you major exposure!



1. Must be organizing related.
2. Must have the button or a text link, linked back to one of our 8 blogs.
3. Must be a new link up each month (No duplicates).
4. A maximum of 2 posts may be linked up each month.
5. Please link to the correct category.
6. The link up must be your own work.
*We have the right to delete any link ups that do not follow the rules.    

 The event will last all month. You can link up on the first day, the last or any day in between. Make sure you only link up a maximum of 2 organizing posts per month. We will share our favorite linked up blog posts on "Organize It!", our Pinterest page. Have fun, get lots of inspiration and share the party with the world!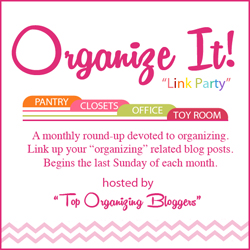 {right click on the button above and save to your computer to upload to your post}    

Kitchen Organization

Closet & Storage Organization

Bedroom Organization

Laundry & Cleaning Supplies

Binders & Planners

Office Organization

Craft Room & Keepsake Organization

Other Spaces