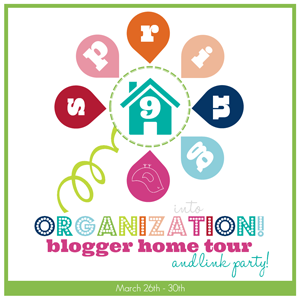 Check out
my updated organized kitchen
!
I'm so excited to be joining 8 other organizing bloggers as we each take you on a tour of different areas of our homes.  I'm the last stop on the parade route!  To see the list of all the other bloggers and the spaces they showcased, please visit this post.  Posting today along with me is Toni from A Bowl Full of Lemons (also sharing her kitchen space) and Leanne from Organize and Decorate Everything (sharing how she organizes her kid's rooms).  Also don't forget to enter the giveaway at the end of this post.
Today I'm showing you my organized kitchen and I can't believe I haven't done so already.  I think I've shown you bits and pieces of it but today I'm going to try and condense everything into one post.  This could take awhile so hang in there 🙂
Welcome to my kitchen!
In this picture you can see I've got a space for my aprons and a towel for the dog when she comes in from outside all wet.
This shelf below holds my cookbook binders and cooking magazines.  The two brown bins hold tablecloths.  On top sits my youngest son's Responsibility Station.  The basket beside it holds backyard shoes.
In the back corner beside the table is this cart that acts as an art center.  His workbooks are in magazine files and I use a Pampered Chef Turnabout for his markers and things.  I also have a place for my newspapers and flyers.  I love reading magazines at the table with a good cup of tea so the magazine holder comes in so handy.  One of my golden rules…store stuff where you use it!
This side of the kitchen is my pantry.  The shelves are very shallow.  Also in this picture you can see my Mom's Ultimate Family Fridge calendar that I love.
The left side of the pantry:
The right side of the pantry is for food:
Top
Bottom – the very two bottom shelves are for my son's allergy safe foods.
Labels affixed with 3M Command Picture Clips
Clear countertops are important to me.  I go a little stir crazy with too many things on them.  I just recently re-organized one of the corners in my kitchen to make more room for the things we use more often.
Corner before:
I moved the bread machine into the pantry (see above) which freed up so much space.
Corner after:
I'm still looking for a coffee sign 🙂
Trays work so well to contain like items.
The cupboard above this corner is the beverage station:
Above the stove holds extra coffee and the green bin holds my cookie cutters.
Lazy susans make the world so much better 🙂
My cupboards on either side of the sink hold my dishes and glassware:
This cupboard below is right above the toasters so that's why you find the butter, peanut butter and honey in the bottom left corner.
We actually keep two toasters on our counter….one for regular bread and one for my son's gluten free bread.
Underneath my kitchen sink:
My grocery bag holder:
I have two lazy susans on either side of the kitchen sink.  One holds the plastic containers:
My basket for the small bitty containers that we use for packed lunches:
Love my container spinner!  This thing is awesome.  I believe I got it at Walmart many moons ago.
The other one holds my spices and baking supplies:
I label the top of my spice lids to make it easy to see what's what.
Another cupboard holds my baking pans that I organize with more wire shelves to keep everything upright and easy to access.  I should mention that my pots and pans are kept in the drawer under the stove.
Now for the drawers.  This one holds my utensils and other odds and ends.  The blue mat is my Drawer Decor that I love.
Dish towels:
Cutlery drawer with steak knives in the back.
I don't really have a "junk" drawer but I do have a junk basket where I keep gum, labels and whatever else gets thrown in.  I also have another Pampered Chef Turnabout for my most frequently used cooking utensils.  Love this product!
I've always kept my medications/vitamins in the kitchen.  So handy!
Our daily vitamins are kept on the counter because otherwise we would forget to take them.
Whew, that has got to be the most pictures I've ever put into a post.  I do hope you enjoyed this tour today.
It might have been a tad confusing going through all these pictures so please let me know if you have any questions about anything you see.
Have a happy day everyone!