Hi, I'm Laurie from Handy Man, Crafty Woman.  Thanks so much to Laura from Org Junkie for having us guest post on her awesome blog.
I love how Laura uses her PROCESS technique when she tackles her organizing projects.  A few months ago, I organized our pantry.  It's a great space, but it had started to get messy.  I applied Laura's PROCESS technique to the job:
Plan your project
Remove items; sort and purge
Organize and purge excess
Containerize; find storage solutions
Evaluate your plan
Solve/simplify anything that isn't working for you
Smile, and enjoy your hard work!
The plan: I decided that I needed to develop a new system of storage, since items were getting lost in the back of the pantry.  I planned to use several storage containers we already owned.  I purchased two can organizers and a small lazy susan, which cost less than $20 total from Lowe's.

Next, I removed all of the items from the pantry, and put them on the kitchen table so I could see everything.  I sorted through and made a "keep", "toss" and "donate" pile.  We're pretty diligent about not letting food expire, so I only tossed a couple of things.
I then organized the remaining items.  I grouped similar items together. I put the items we were going to keep back into the pantry, and I made a small pile to donate.
I used plastic containers, baskets and wire shelves that we owned to containerize things in a more organized way.  I put some spices on our new lazy susan, and put the cans back on the new can organizer.
I then evaluated the pantry: Can I see things more easily? Yes.  Can I reach things more easily? Yes. (This is very important, because I'm a shortie!)
I decided to simplify our pantry even more by moving some excess food and supplies to storage racks in our basement.  This gave me more room in the pantry so it was easier to see what I had, and what I needed to buy.
Last, the pantry did make me smile, since this project took less than 30 minutes to complete, and it looks so much better!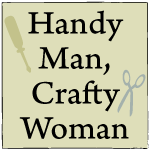 Note from Laura:  You did a great job Laurie!  Thanks for sharing how easy it can be to organize a space following a few simple PROCESS steps.
Anyone else working on a pantry this week?
PS:  Download my free printable bookmark that lists the PROCESS steps for you on the back to help you remember them (reduce zoom to 100%).